dell analytics solutions - Latest dell analytics solutions Models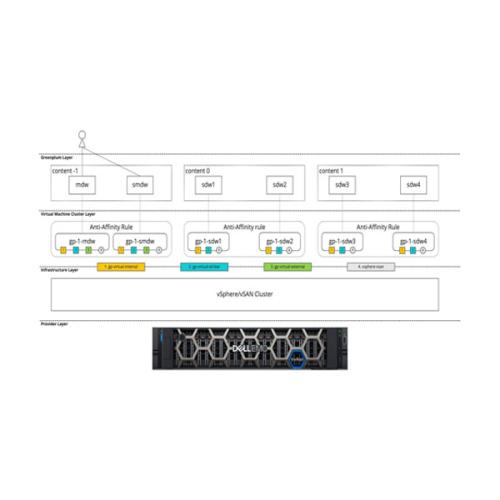 Dell VMware Tanzu Greenplum For Data Analytics
Using Dell EMC PowerScale and Dell EMC PowerScale Isilon storage, VMware Tanzu Greenplum offers a scale-out analytics solution that is fast, effective, and simple to grow. This combination has shown to be adaptable and serves a number of industry-standard use cases in a single design that is simple to implement and support, featuring landing zones for data consumption data lake storage, data science, data warehouses, and data marts.
Compute:-
Storage:-
Dell EMC
PowerScale Isilon
H500 storage
Virtualization:-
VMware
vSphere
VMware vSAN
Data services:-
VMware Tanzu
Greenplum
Apache Spark
Apache Kafka.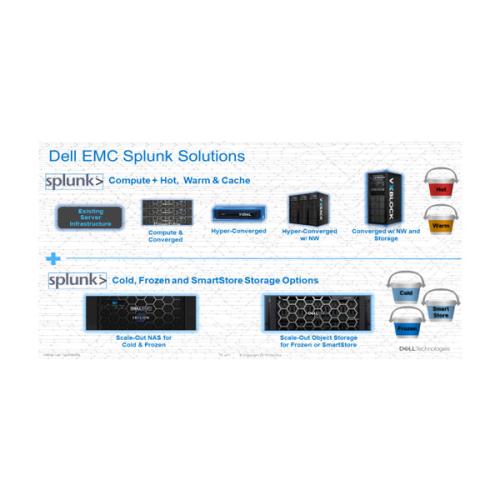 Dell EMC Infrastructure for Splunk Enterprise
In order to provide the best operational intelligence for your firm, Splunk Enterprise on Dell infrastructure combines Splunk analytics with the affordable, scalable, and flexible infrastructure of Dell hardware built on Intel.
Infrastructure elements:-
Dell servers:
PowerEdge R640
PowerEdge R740xd
Dell networking :
PowerSwitch S4148F-ON
PowerSwitch S3048-ON
Software:
Storage:
2x 480GB SSD SAS
mixed use 12Gbps RAID 1.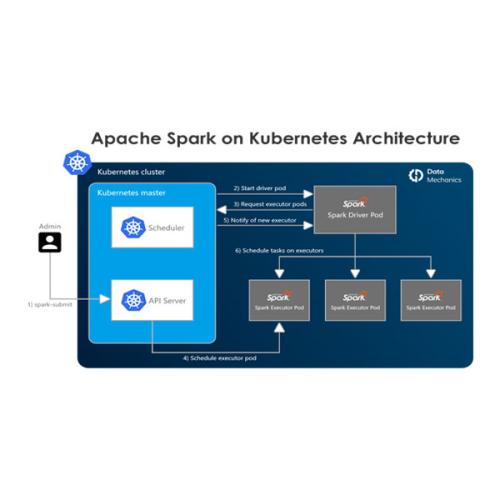 Dell Spark on Kubernetes For Data Analytics
The Dell Technologies Validated architecture for Analytics — Spark on Kubernetes provides a tried-and-true architecture that outlines the system building blocks for utilizing Kubernetes' expanding capabilities to manage Spark analytics infrastructure.
Design components :-
Servers:
Networking:
Mellanox ConnectX-4
Lx dual-port 25GbE SFP
28 rNDC
Software:
Apache Spark
Red Hat OpenShift
Container Platform
Storage:
2x 800GB SSD SAS mix use
12Gbps and 2.5 in. hot-plug
AG drive, 3 DWPD, 4380 TBW.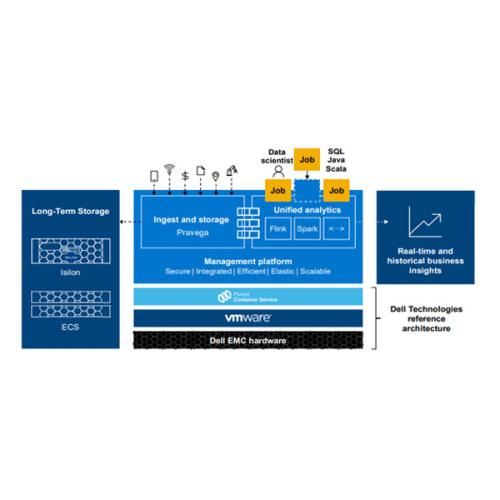 Dell Real Time Data Streaming Solution
Real-time data and event-driven applications promote innovation, boost agility, and support the development of new digital goods and services by moving away from batch processing.
The time, effort, and resources required to construct real-time data pipelines and streaming applications are reduced with the use of the Dell Technologies Validated Design for Real-Time Data Streaming.
Solution advantages:-
Use more data – By combining data from several sources into a single, central event-streaming platform, you can enable real-time data pipelines and streaming applications.
Boost productivity by effectively filtering and moving data to the areas where the appropriate personnel and equipment can be used to get valuable insights.
Reduce complexity by utilizing validated designs that make it easier to integrate Apache Kafka with data sources, construct applications using Kafka services, and secure, monitor, and manage Kafka infrastructure.
Dell EMC PowerEdge servers:-
Confluent Platform: R650
Kafka brokers: R650
KSQL servers: R650
Networking:-
Dell EMC PowerSwitch S3048-ON (management)
Dell EMC PowerSwitch S5148-ON (rack)
NVIDIA ConnectX-4 Lx dual port 25GbE (cluster)
Software:-
Apache Kafka
Confluent Platform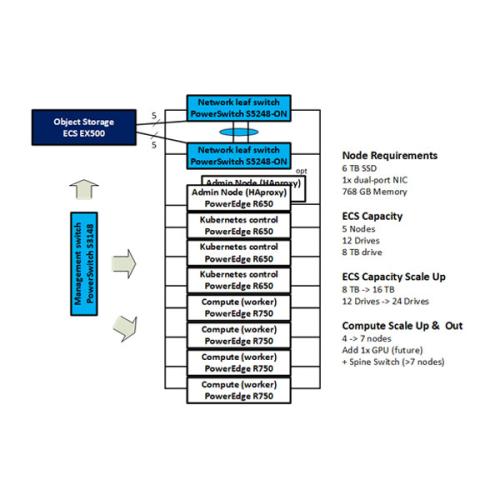 Dell Predictive maintenance with Splunk
By combining data, statistics, machine learning (ML), and modeling, the Dell Validated Design for Analytics — Predictive Maintenance with Splunk offers businesses actionable insights about production machinery that enable them to avoid making unnecessary repairs, proactively prevent potentially catastrophic machine failures, and do away with the costs of unplanned downtime that reduce profits.
Dell servers:
3x PowerEdge R650(head nodes)
4x PowerEdge R750(worker nodes)
Dell networking:2x PowerSwitch S5248F-ON
Dell storage :5x Elastic Cloud Store (ECS) EX500
Software:Splunk Enterprise.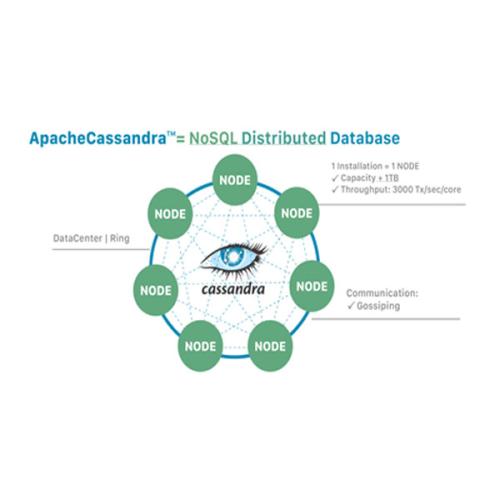 Dell DataStax for Cassandra NoSQL Solution
For a deployment of Apache Cassandra that is both highly available and secure and can meet the processing demands of contemporary and modernized applications, Dell Technologies and DataStax have developed an architecture. The solution investigates the architecture of the jointly created solution for data management and application modernization.
Dell EMC Infrastructure:-
5x PowerEdge R640
PowerSwitch S5232F-ON or Z9100-ON
PowerSwitch S3048-ON
Software:-
VMware Tanzu
Red Hat OpenShift
DataStax Enterprise
DataStax Kubernetes Operator for Apache Cassandra
DataStax Enterprise OpsCenter
Apache Cassandra, Spark, Solr.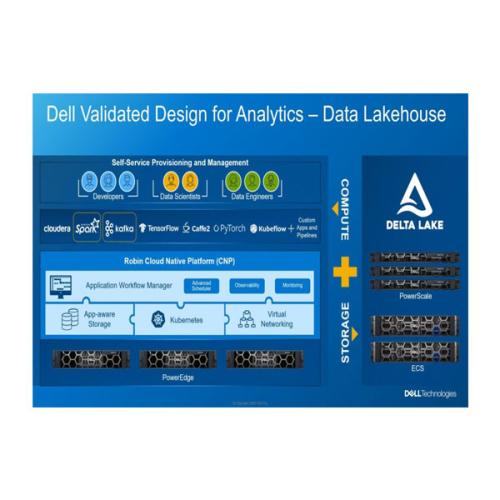 Dell Data Lakehouse For Analytics
By allowing businesses to capture and analyze all forms of data — structured, unstructured, and semi-structured — more flexibly and affordably than traditional data warehouses, adding a data lake was expected to help address these problems. Many businesses today combine a data lake and a data warehouse, keeping data in the lake and replicating it to the warehouse so that users can access it.
Improved performance, data quality, and control provide you the ability to extract more value from your data.
Simplify your data landscape by giving all of your data a single source and getting rid of the requirement for additional systems to support real-time data applications.
Protect and secure your data – Your data lake will be more dependable and high-quality with fine-grained security, comprehensive data management, and governance.
Components with a variety of the extent choices
Master nodes: 3xminimum ofPowerEdge R660
Worker nodes: 4xminimum ofPowerEdgeR76(NVIDIA GPU optional)
Networking :2x minimum of PowerSwitch S5248F-ON
Storage: Apache Spark, Apache Kafka, Delta Lake, Parquet, NVIDIA AI Enterprise(optional)
Kubernetes Platform: Symcloud, CNP.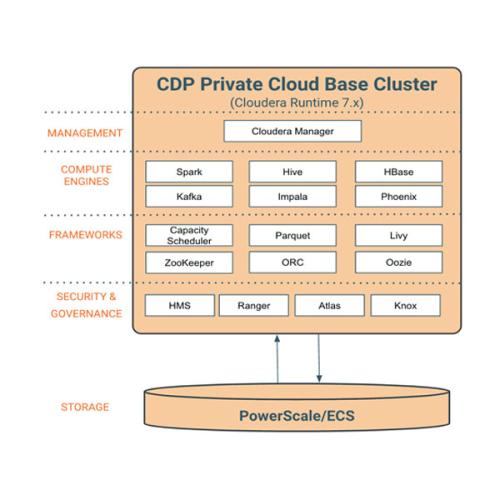 Dell Cloudera Data Platform Private Cloud Base
Giving you the best of both worlds, CDP Private Cloud Base combines Hortonworks Data Platform (HDP) with Cloudera Distribution for Apache Hadoop (CDH).
With new features and improvements throughout the stack, this new software integrates the top technologies from Hortonworks and Cloudera to provide a hybrid data platform that covers the complete data lifecycle. You may operate numerous different sorts of data analytics workloads securely on this flexible and adaptable platform.
One of the most significant differences from a typical big data stack:-
The use of elastic analytics on a cloud with containerized computing.
Separate object storage that is highly scalable from the computing layer.
An enterprise-wide data lake that is safe and well-managed.
Hybrid cloud is made possible by consistent management services across all clouds.
Components with a variety of the extent choices:-
Infrastructure nodes: PowerEdge R660
Worker nodes: 5x minimum of PowerEdge R760
Switches: PowerSwitch S3100-ON management, PowerSwitch S5248F-ON leaf, PowerSwitch Z9232F-ON spine.
Software: Red Hat Enterprise, Linux with CDP including Cloudera Private Cloud Base and Cloudera Manager
Storage: PowerScale H700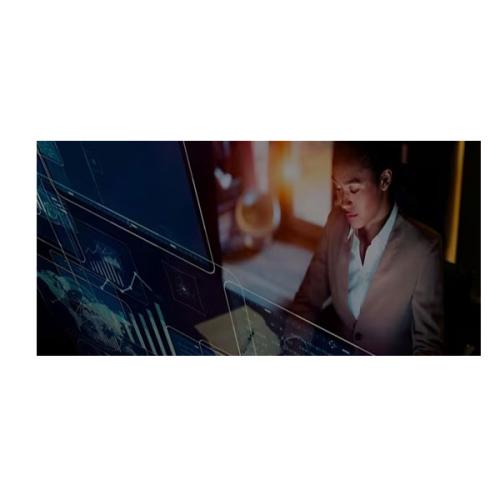 Dell Analytics Solutions For Business
Utilize the power of analytics to gain a competitive edge with Dell Technologies solutions that are built to protect your data and make analytics project deployment simple.