Servers & Workstations Models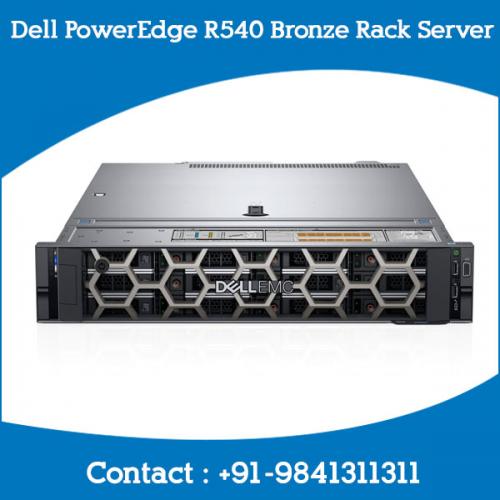 Dell PowerEdge R540 Bronze Rack Server
Form Factor : 2U Rack Model
Model : PowerEdge R540
CPU : Intel Xeon Bronze 3204 1.92GHz, 6Core/6T, 9.6GT/s, 8.25MB Cache, No Turbo, No HT (85Watts) Processor
Max Memory : 16 DIMMS
Memory : 1 x 8GB RDIMM
Max HDD Scalability : Up to 8, 3.5in Hot Plug Hard Drives and Software RAID
HARD DISK : 1 x 1TB 7.2K RPM SATA 6Gbps 512n 3.5in Hot-plug Hard Drive
RAID InBuilt : SW RAID
POWER SUPPLY : Single, Hot-Plug Power Supply, 495Watts
System Management : iDRAC9,Enterprise
WARRANTY : 3Years ProSupport and Next Business Day Onsite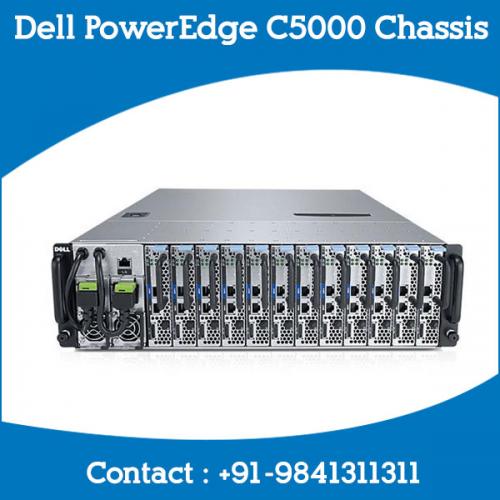 Dell PowerEdge C5000 Chassis
Maximise data centre floor space with the 3U PowerEdgeâ"¢ C5000 chassis. Shared infrastructure for up to 12 PowerEdge C microservers enhances server density and helps lower power and cooling costs.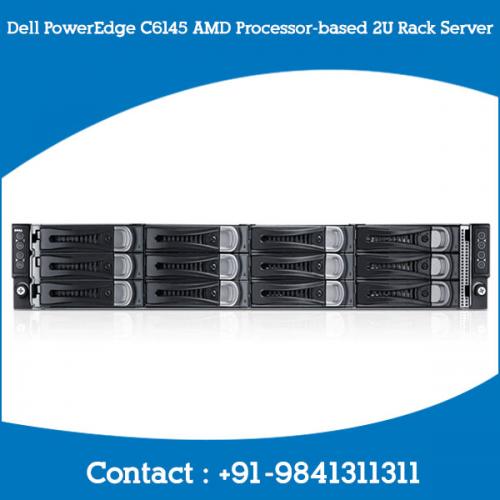 Dell PowerEdge C6145 AMD Processor-based 2U Rack Server
Get fast answers to tough problems with the PowerEdgeâ"¢ C6145, with two 4-socket AMD Opteronâ"¢ 6200 processor-based servers in 2U.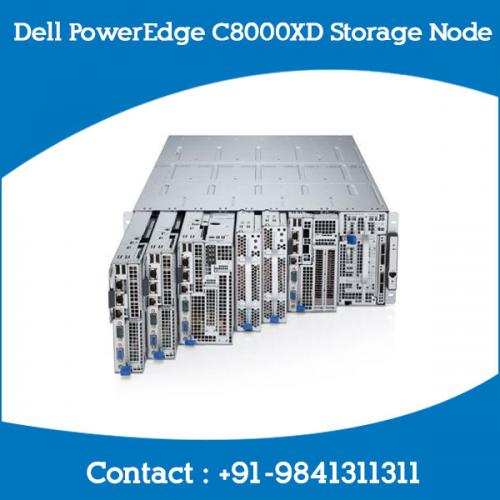 Dell PowerEdge C8000XD Storage Node
Maximize data center storage flexibility with up to four double-wide, hot-swap PowerEdgeâ"¢ C8000XD storage nodes in one 4U C8000 Series chassis.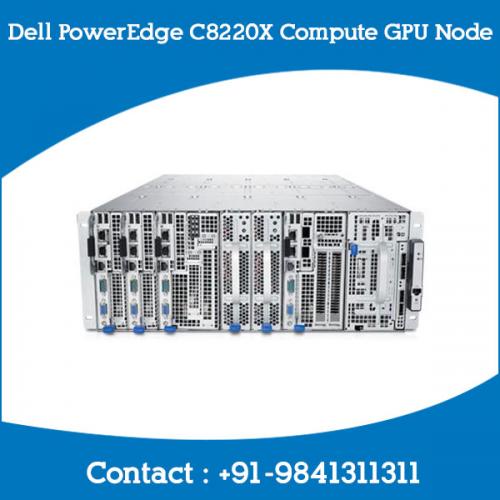 Dell PowerEdge C8220X Compute GPU Node
Maximize data center computing density with up to four double-wide, hot-swap PowerEdgeâ"¢ C8220X compute GPU nodes in one 4U C8000 Series chassis.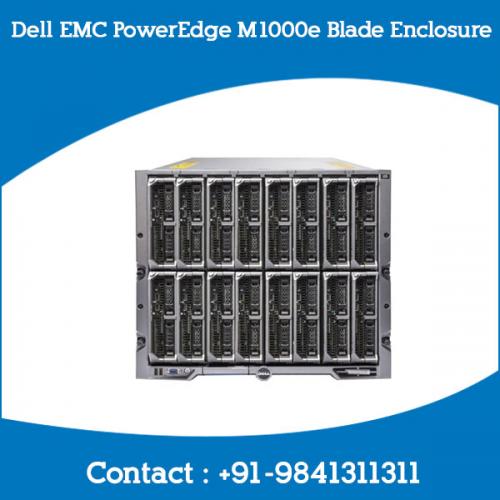 Dell EMC PowerEdge M1000e Blade Enclosure
Chassis
Form Factor:
10U modular enclosure holds up to sixteen half-height blade servers
44.0cm(17.3")H x 44.7cm(17.6")W x 75.4cm(29.7")D
Weight:
Empty Chassis only – 98lbs (44.5kg)
Chassis w/ all rear modules (IOMs, PSUs, CMCs, KVM) - 176lbs (79.8kg)
Max Fully loaded w/ blades and rear modules - 394lbs (178.7kg)
Cooling Fans:
M1000e Chassis comes standard with 9 hot pluggable, redundant fan modules
Based on Energy Smart Technologies, M1000e fans are a breakthrough in power and cooling efficiency.
The fans deliver low power consumption, but also use next generation "low flow" technology to ensure the
lowest possible amount of fresh air is consumed to cool the enclosure
Input Devices:
Front Control Panel with interactive Graphical LCD
Supports initial configuration wizard :
Local server blade, enclosure, and module information and troubleshooting
Two USB Keyboard/Mouse connections and one Video connection (requires the optional Avocent iKVM switch
to enable these ports) for local front "crash cart" console connections that can be switched between blades
Power Up to six 3000W high-efficiency power supplies, six 2700W high-efficiency power supplies or up to six -48V DC 2700W power supplies.
Based on Dell's Energy Smart technologies, the M1000e power supplies deliver greater levels of efficiency, even at low levels of utilization. Supported power supply
configurations include:
3+3 and 2+2 (grid redundancy)
2+1, 3+1, 4+2, and 5+1 (power supply redundancy)
2+0 and 3+0 (non-redundant mode)
The M1000e chassis supports dynamic power supply engagement (DPSE) mode, which if enabled, puts lightly loaded power supplies into standby mode, driving up the utilization and the efficiency of the active supplies. Dell supports either 110–120V or 208–240V AC power supply input and supports a wide range of power distribution options. Dell recommends 208–240V AC for all production environments.
Storage
External Storage Options:
For information about Dell external storage options, visit Dell.com/Storage.
Management
1 (standard) or optional 2nd (redundant) Chassis Management Controller(s) (CMC) that provide:
Single secure interface for inventory, configuration, monitoring, and alerting for the chassis and all components Multi-chassis management capability allows up to nine chassis and 288 servers to be managed from a single, embedded, agent-less interface
Enables automated and embedded one-to-many blade BIOS and firmware updates, independent of the OS through iDRAC
Allows one-to-many blade server BIOS capture and replication
Real-Time Power/Thermal Monitoring and Management
Real-Time System AC Power Consumption with resettable peak and minimum values
System-level power limiting and slot-based power prioritization
Manages Dynamic Power Engagement functionality that can help to lower overall system power consumption by ensuring power supplies run at their optimal efficiency points
Manages fan speed control using Dell's enhanced efficiency technologies to ensure fans are delivering optimal cooling while minimizing power consumption and airflow
Secure Web (SSL) and Command Line (Telnet/SSH) interfaces :
Supports multiple levels of user roles and permissions, including integration into MicrosoftActive DirectoryServices and Lightweight Directory Access Protocol (LDAP) services for authentication 2 x 10/100/1000Mb Ethernet ports + 1 serial port
Provides single point of connection from management network to iDRAC on each of the blades and the management interfaces on the integrated I/O modules
2nd Ethernet port supports daisy chaining of CMCs for improved cable management
Optional Integrated Avocentkeyboard, video and mouse (iKVM) switch:
Enables USB keyboard/mouse and video port on front control panel
Dell OpenManage™ Systems Management :
Dell OpenManage Server Administrator—monitoring agents and 1:1 management utilities
Dell OpenManage Essentials—discover, inventory, monitor, and update M1000e chassis and bladesIntegration with third-party management solutions through Dell's Certified Partner Program Remote Management
Communications:
Brocade Switch M5424
Enclosure I/O Modules
Up to six total I/O modules for three redundant fabrics, featuring Ethernet FlexIO Switches providing
on demand stacking and uplink scalability.
PowerConnect M6220 Ethernet Switch :
Includes 4 x fixed copper 10/100/1000Mb Ethernet uplinks plus 2 of the following optional modules:
2 x 24Gb Stacking Ports
2 x 10Gb Optical (XFP-SR/LR) uplinks
2 x 10Gb copper CX4 uplinks
Standard Features include :
Layer 3 routing (OSPF, RIP, VRRP)
IPv6 support
Layer 2/3 QoS
Access Control Lists
Dell Ethernet Pass-Through Module :
Supports 16 x 10/100/1000Mb copper RJ45 connections
Only Ethernet Pass-through module on the market that supports full range of 10/100/1000Mb operation
BrocadeM4424 SAN I/O Module :
Access Gateway Mode or FC Switch
Access Gateway Mode enables NPIV functionality on external ports which delivers enhanced fabric interoperability, simplified set up, and doesn't consume an FC domain
12 or 24 port versions with 4 or 8 x FC 1/2/4Gb SFPs respectively :
4Gb Fibre Channel Pass-Through Module
16 x FC 1/2/4Gb SFP ports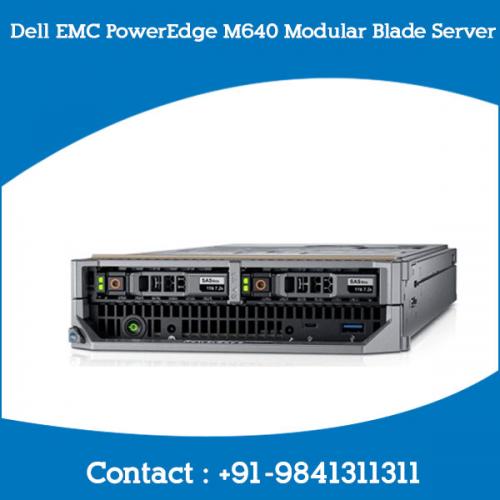 Dell EMC PowerEdge M640 Modular Blade Server
Processor :
Up to two Intel Xeon Scalable processors, up to 28 cores per processor
Memory1 :
16 DIMMs in total; Supports RDIMM /LRDIMM/AEP
Up to 6 channels with 2 DPC / 1 DPC / 1 DPC
Up to two 2.5" NVME PCIe SSD
DDR4 speeds up to 2666 MT/s 16 x 32GB RDIMM
Storage Controllers
Internal controllers:
Software RAID S140, PERC9 H330, H730P
Boot Optimized Storage Subsystem:
HWRAID 2 x M.2 SSDs 120GB, 240 GB
Internal Dual SD Module optional
Drive Bays Front:
Up to 2 x 2.5" SAS/SATA (HD/SSD) max 12.8TB
Power Supplies
2700W and 3000W for M1000e
1100W and 1600W for VRTX
Fans :
Hot plug fans with full redundancy
Dimensions
Chassis depth:
544.32 mm (handle push-in), 564.87 mm (Handle pull out)
Embedded Management
Chassis Management Controller (CMC)
IPMI 2.0 compliant
Integrated Dell Remote Access Controller (iDRAC 9) with Lifecycle Controller
OpenManage Software
OpenManage Essentials (OME)
OpenManage Server Administrator (OMSA)
I/O and Ports
Network daughter card options
2 x 10GE + 4 X 1GE, 4 x 10GE
Front ports:
Power button
System ID / Status LED
1 USB 2.0 MicroAB port with iDRAC management function
1 USB 3.0 port
Rear ports:
2 x PCIe 3.0 (x8) mezzanine cards for M1000e
2 x PCIe 2.0 (x8) switch mezzanine cards for VRTX
Video card:
VGA controller integrated with iDRAC
8 Gen3 low-profile cards for VRTX
3 standard height, full-length x8 PCIe Gen2 cards for VRTX
5 low profile, half-length x8 PCIe Gen2 cards for VRTX
Supported Operating Systems
Canonical Ubuntu Server LTS
Citrix XenServer (optional)
Microsoft Windows Server
Microsoft Windows Server with Hyper-V™
Red Hat Enterprise Linux
SUSE Linux Enterprise Server
VMware vSphere
VMware ESXi
Recommended Support :
Dell ProSupport Plus for critical systems or Dell ProSupport for premium hardware and software support for your PowerEdge solution. Consulting and deployment offerings are also available. Contact your Dell representative today for more information
Management
Embedded / At-the-Server
iDRAC9 with Lifecycle Controller (Express, Enterprise)
iDRAC Direct
iDRAC REST API with Redfish
Chassis Management Controller (CMC)
Consoles :
OpenManage Enterprise
OpenManage Essentials
OpenManage Power Center
Mobility :
OpenManage Mobile
Tools :
iDRAC Service Module
OpenManage Server Administrator
OpenManage Storage Services
Dell Repository Manager
Dell System Update
Dell Server Update Utility
Dell Update Catalogs
OpenManage Integrations :
Microsoft System Center
VMware vCenter
BMC software (available from BMC)
OpenManage Connections :
Nagios Core and Nagios XI
HPE Operations Manager i (OMi)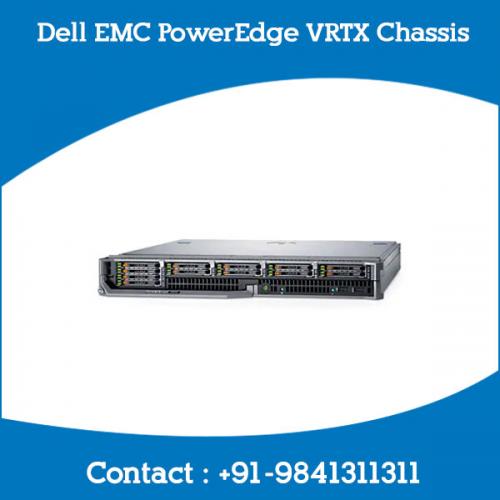 Dell EMC PowerEdge VRTX Chassis
Product Configurations :
Microsoft Windows Server 2008 SP2, x64, x86
Microsoft Windows Server 2008 R2, SP1
Microsoft Windows Server 2012
Microsoft Windows Server 2012 R2
Microsoft Windows Server 2016
Novell SUSE Linux Enterprise Server
Red Hat Enterprise Linux
VMware vSphere ESXi
VMware vCenter Server 6.5
Also supports Microsoft Exchange, Microsoft SQL Server and Microsoft SharePoint Server
Drive Bays :
Up to 12 x 8.8cm (3.5) NLSAS, SAS, or SAS SSD hot-plug drives or
Up to 25 x 6.3cm (2.5) NLSAS, SAS, or SAS SSD hot-plug drives
Optional FIPS 140-2 certified self-encrypting drives (SED)
Integrated Ethernet Switch :
Internal 1GbE 8-port pass-through module
Internal 1GbE 24-port switch
Internal 10GbE switch
GPU :
Up to 2 single-wide actively cooled GPU accelerators (NVIDIA Quadro P4000)
Chassis Form factors:
Tower or 5U rack enclosure
Tower configuration:
48.4cm (19.1) H with system feet x 31.0cm (12.2) W with system feet opened x 73.0cm (28.7) D
Weight (empty) = 31.7kg (69.7lb)
Weight (maximum) = 74.8kg (164.9lb)
Rack configuration:
21.9cm (8.6) H x 48.2cm (19.0) W x 73.0cm (28.7) D
Weight (empty) = 24.7kg (54.5lb)
Weight (maximum) = 68.7kg (151.5lb)
Server node options :
PowerEdge M520, M620, M630, M820 and M830 server nodes
Power Redundant power supply units:
Supports up to four 1100W or 1600W AC power supply units (PSU) in 3+1 and 2+2 redundant configurations
Cooling :
VRTX comes standard with six hot-pluggable, redundant fan modules and four blower modules:
Based on Dell Energy Smart Technologies, VRTX fans and blowers are a breakthrough in power and cooling efficiency. Fans and blowers deliver low-power consumption and use next-generation fan technologies to ensure the lowest possible amount of fresh air is consumed to cool the enclosure.
RAID Controllers :
Single shared PERC8 with optional second redundant shared PERC8 available
Rack Support :
ReadyRails II sliding rails for 4-post racks with square, round, or threaded holes
I/O Expansion Slots
8 flexible PCIe slots:
3 full-height/full-length slots (150W) with double-wide card support (225W)
5 low-profile/half-length slots (25W)
Systems Management :
Delivers comprehensive functionality yet simple and easy to use:
Uses Chassis Management Controller (CMC) to manage all resources (server nodes, storage, networking, and power) with a unified management tool, presented in a single console
Monitors up to nine VRTX chassis from a single, consolidated CMC console
Offers both Local and Remote management :
Is available with either Enterprise or Express CMC licensing for CMC
Redundant Chassis Management Controller is available
Server nodes each contain proven iDRAC7 with Lifecycle Controller for agent-free systems
Management that are fully supported within the OpenManage product portfolio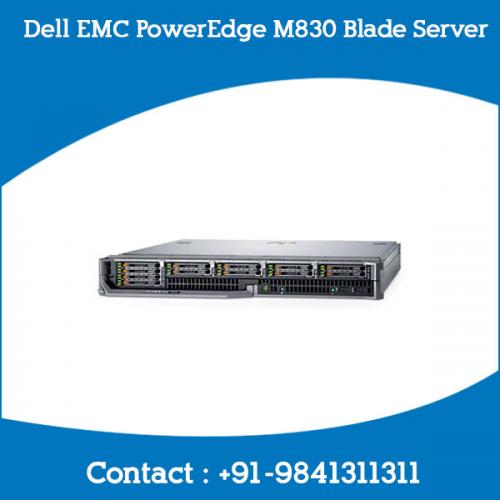 Dell EMC PowerEdge M830 Blade Server
Processor :
Intel Xeon processor E5-4600 v4 product family
Processor Sockets:
Internal interconnect
2 x Intel QuickPath Interconnect (QPI); 6.4 GT/s; 8.0 GT/s; 9.6 GT/s
Cache :
2.5MB per core; core options: 6, 10, 12, 14, 16, 18, 22
Operating System :
Microsoft Windows Server 2008 R2
Microsoft Windows Server 2012
Microsoft Windows Server 2012 R2
Microsoft Windows Server 2016
Novell SUSE Linux Enterprise Server
Red Hat Enterprise Linux
VMware ESX
Optional hypervisors:
Citrix XenServer
VMware vSphere ESXi
Chipset :
Intel C610 series chipset
Memory1 :
Up to 3TB (48 DIMM slots): 4GB/8GB/16GB/32GB/64GB DDR4 up to 2400 MT/s
Embedded Hypervisor (Optional)
VMware vSphereESXi using redundant internal SD cards dedicated for hypervisor
Storage :
Hot-plug hard drive options: PowerEdge Express Flash NVMe PCIe SSD, SATA HDD/SSD or SAS HDD/SSD
Drive Bays :
12 x 1.8" SSD, 4 x 2.5" SATA HDD/SSD or SAS HDD/SSD, 2 x 2.5" PCIe SSD and 2 x 2.5" SATA HDD/SSD or SAS HDD/SSD
I/O Mezzanine Card Options :
Broadcom 5719 quad-port 1Gb NIC
Broadcom 5720 dual-port 1Gb NIC
Broadcom 57810 dual-port 10Gb DA/SFP+ CNA
Broadcom 57810 dual-port 10Gb Base-T network adapter
RAID Controllers :
PERC S130 (SW RAID), PERC H330, PERC H730, PERC H730P
Communications :
Two Dell Select Network Adapters using:
Broadcom 5720 1Gb Quad Port KR Blade Network Daughter Card
QLogic 57840S 10Gb Quad Port KR Blade Network Daughter Card
QLogic 57810S-k Dual port 10Gb KR Blade Network Daughter Card
Emulex OneConnect OCm14102-U4-D, Dual Port 10GbE, KR CNA Network Daughter Card
Emulex dual-port 10GB KR Blade Network Daughter Card
Intel i350 Quad Port 1 Gigabit, KR Blade Network Daughter Card
Intel x520-k dual-port 10Gb KR Blade Network Daughter Card
Power :
Chassis level – PowerEdge M1000e 2700W Platinum and 3000W Titanium PSU options
Video Card :
Video type Matrox G200 (integrated with iDRAC8)
Video memory: 16MB shared with iDRAC8 application memory
Chassis :
Form factor: Full-height blade with up to 8 nodes in a M1000e chassis; up to 2 nodes in VRTX converged infrastructure
Blade Server Dimensions:
Height: 197.92 mm (15.2 inch)
Width: 50.35 mm (2 inch)
Depth: 564.9 mm (19.2 inch)
Management :
Systems management:
IPMI 2.0 compliant
Dell OpenManage Essentials
Dell OpenManage Mobile
Dell OpenManage Power Center
Remote management iDRAC8 with Lifecycle Controller, iDRAC8 Express (default), iDRAC8 Enterprise (upgrade)
8GB vFlash media (upgrade), 16GB vFlash media (upgrade)
Dell OpenManage Integrations:
Dell OpenManage Integration Suite for MicrosoftSystem Center
Dell OpenManage Integration for VMwarevCenter
Dell OpenManage Connections:
HP Operations Manager, IBM TivoliNetcooland CA Network and Systems Management
Dell OpenManage Plug-in for OracleDatabase Manager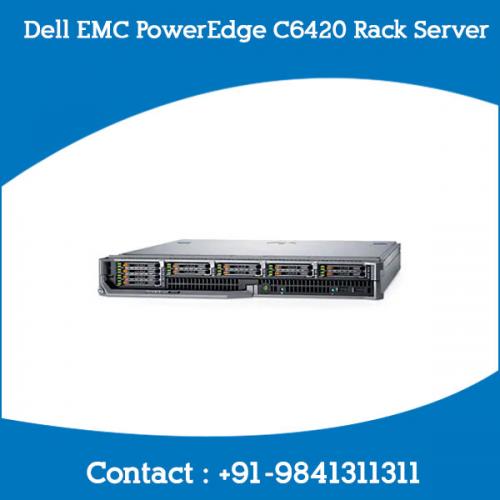 Dell EMC PowerEdge C6420 Rack Server
Processor :
Up to two Intel Xeon Scalable processors including integrated Omni-Path fabric processors; up to 205W processors and 28 cores per processor
Operating System :
Canonical Ubuntu LTS Citrix XenServer
Microsoft Windows Server with Hyper-V Red Hat Enterprise Linux
SUSE Linux Enterprise Server VMware ESXi
Memory1 :
16 DIMM slots for up to 512GB per sled, 8GB/16GB/32GB DDR4 2666MT/s RDIMMs ECC Registered DDR4
Drive Bays
Hard Drives:
300/600/900GB 2.5" 15K 12Gb SAS Drives
600GB/1.2TB/1.8TB 2.5" 10K 12Gb SAS Drives
1TB/2TB 2.5" 7.2K 12Gb SAS Drives
1TB/2TB/4TB/8TB/10TB 3.5" 7.2K 12Gb SAS/ 6Gbps SATA Drives
Solid State Drives:
120GB 2.5" 6Gbps SATA Boot SSD
480GB/960GB/1.92TB/3.84TB 6Gbps SATA Read Intensive SSDs
960GB/1.92TB/3.84TB 12Gbps SAS Read Intensive SSDs
240GB/480GB/960GB/1.92TB 6Gbps SATA Mixed Use SSDs
400GB/480GB/960GB/1.6TB/1.92TB 12Gbps SAS Mixed Used SSDs
400GB/800GB 12Gbps SAS Write Intensive SSDs
FIPS-140 Self Encrypting Hard Drives:
1.2TB 2.5" 10K 12Gb SAS FIPS-140 SED
2TB 2.5" 7.2K 12Gb SAS FIPS-140 SED
4TB/8TB 12Gbps SAS FIPS-140 SED
NVMe Drives:
800GB/1.6TB Mixed Use 2.5" NVMe SSDs and PCIe adapter cards
Dimensions
(LxWxD):
86.8mm x 448mm x 790mm
Weight (Maximum system configuration):
3.5" Direct Backplane Chassis: 43.62 Kg
2.5" Direct/Expander/NVMe Backplane Chassis: 41.46 Kg
No Backplane Chassis: 34.56 Kg
Form Factor:
Rack (2U)
Data Protection
PowerEdge Secure Boot, System Erase, System Lockdown, Drift Detection, BIOS and OS Recovery, Active Directory/LDAP, two-factor authentication (TFA), SSH with Public Key Authentication (PKA), TLS 1.2, SNMP v3, Self-Encrypting and Instant Secure Erase (ISE) Drives
Ports :
Rear ports: 2 x USB 3.0 ports, 1 Micro USB port for iDRAC Direct
One x16 PCIe Gen3 riser (low profile, half height and half length)
One x8 PCIe Gen3 Mezzanine (for storage controller)
One x16 PCIe Gen3 OCP Mezzanine (for network controller)
One x16 PCIe Gen3 riser (for M.2 Boot Device)
Power :
Dual Hot-plug redundant and non-redundant 1600W AC Power Supply
Dual Hot-plug redundant 2000W and 2400W AC Power Supply
Cooling options: Air Cooling, Direct Liquid Cooling (DLC)
RAID Controllers :
S140 Software RAID with Intel C620 Chipset SATA controller (RAID 0, 1, 5, 10)
RAID using PERC H330 Mezzanine (RAID 0, 1, 5, 10, 50), PERC H730p Mezzanine (RAID 0, 1, 5, 6, 10, 50, 60)
Non RAID: HBA330 Mezzanine, 12Gbps SAS LP PCIe HBA
Management
Embedded / At-the-Server :
iDRAC9 with Lifecycle Controller (Express, Enterprise)
iDRAC Direct :
iDRAC REST API with Redfish
Quick Sync 2 BLE/wireless module
Consoles :
OpenManage Enterprise (coming soon)
OpenManage Essentials
OpenManage Power Center
Mobility :
OpenManage Mobile
Tools :
iDRAC Service Module
OpenManage Server Administrator
OpenManage Storage Services
Dell EMC Repository Manager
Dell EMC System Update
Dell EMC Server Update Utility
Dell EMC Update Catalogs
OpenManage Integrations :
Microsoft System Center
VMware vCenter
BMC software (available from BMC)
OpenManage Connections :
Nagios Core and Nagios XI
HPE Operations Manager i (OMi)
IBM TivoliNetcool/OMNIbus (coming soon)
IBM TivoliNetwork Manager IP Edition (coming soon)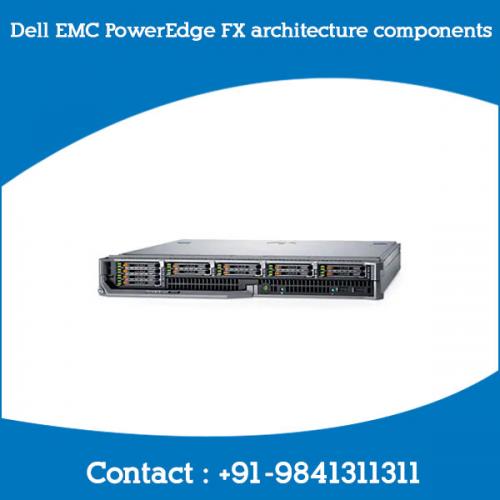 Dell EMC PowerEdge FX architecture components
Processor :
FC830:
Up to four IntelXeonprocessor E5-4600 v4 product family processor, with up to 22 cores per processor
FC640:
Up to two IntelXeonScalable processors, with up to 28 cores per processor
FC630:
Up to two IntelXeon600 E5-2600 v4 processor, with up to 22 cores per processor
FC430:
Up to two IntelXeonprocessor E5-2600 v4 processors, with up to 18 cores per processor
FD332 N/A Memory1 :
FC830:
48 DDR4 DIMM slots, 1.5TB max. Speeds up to 2400MT/s
FC640:
16 DDR4 DIMMs slots, 2TB max. Supports RDIMM / LRDIMM /AEP, speeds up to 2666MT/s
FC630:
24 DDR4 DIMMs slots, 1.5TB max, speeds up to 2400MT/s
FC430:
8 DDR4 DIMMs slots, 512GB max, with speeds up to 2400MT/s
FD332 N/A :
Storage Controllers
FC830:
Internal controllers:
Software RAID PERC S130, PERC H330, PERC H730, PERC H730P
FC640:
Internal controllers:
Software RAID S140, PERC H330, H730P
Boot Optimized Storage Subsystem
Internal Dual SD Module
FC630:
Internal controllers:
Software RAID PERC S130, PERC H330, PERC H730, PERC H730P
FC430:
Internal controllers:
Software RAID PERC S130
FD332:
Internal controllers:
FD33xS (single PERC), FD33xD (dual PERC)
Drive Bays
FC830:
Front drive bays:
Up to 8 x 2.5" SAS/SATA (HDD/SSD), NVMe SSD
FC640:
Front drive bays:
Up to 2 x 2.5" SAS/SATA (HDD/SSD), NVMe SSD:12.8 TB max capacity
FC630:
Front drive bays:
Up to 2 x 2.5" SAS/SATA (HDD/SDD), NVMe SSD
FC430:
Front drive bays:
Up to 2 x 1.8" uSATA SSDs
FD332:
Up to 16 x SFF storage devices per FD332
SATA HDD/SDD or SAS HDD/SSD
Power Supplies
FC830, FC630, FC430, FD332:
In PowerEdge FX2 chassis:
2000W or 1600W in 1+1 redundant, RAO (Redundancy Alerting Only) or 2+0 non-redundant configurations
FC640:
In PowerEdge FX2 chassis:
Platinum 1600W, 2000W, 2400W
Fans
FC830, FC640, FC630, FC430:
Hot plug fans with full redundancy
FD332:
N/A
Dimensions
FC830
Form factor:
Modular compute sled (1U)
H: 427.6 mm (16.83 in)
W: 40.3 mm (1.58 in)
D: 538.1 mm (21.85 in)
FC640:
Form factor:
Modular compute sled (1U)
L: 40.3 mm
W: 211 mm
D: 535.8 mm
FC630:
Form factor:
Modular compute sled (1U)
L: 211.10 mm (8.31 in)
W: 40.3 mm (1.58 in)
D: 535.8mm (21.09 in)
FC430:
Form factor:
Modular compute sled (1U)
L: 102.7 mm (4.04 in)
W: 40.4 mm (1.59 in)
D: 480.36 mm (18.91 in)
FD332:
Form factor: Half-width – supports up to 16 small form factor 2.5" storage devices; Up to 3 FD332 storage blocks per PowerEdge FX2 chassis (configuration dependent)
L: 210.9 mm (8.30 in)
W: 40.1 mm (1.57 in)
D: 523.6 mm (20.61 in)
OpenManage Software
OpenManage Enterprise
OpenManage Essentials
OpenManage Mobile
OpenManage Power Center
Security
FC640:
Cryptographically signed firmware
Secure Boot
Server Configuration Lock-down
Secure instant erase
I/O and Ports
FC830:
Network daughter card options:
2 x 10GbE, 4 x 10GbE, 4 x 1GbE
NDC mezzanine cards supported in FX2s chassis; 4 x 1 Gbe, 2 x 10GbE,
Video card:
VGA controller integrated with iDRAC
PCIe:
See PowerEdge FX2 chassis specifications
FC640:
Network daughter card options:
2 x 10GE + 2 x 1GE, 4 x 10GE
Video card:
VGA controller integrated with iDRAC
PCIe:
See PowerEdge FX2 chassis specifications
FC630:
Network daughter card options:
2 x 10GbE, 4 x 10GbE
NDC mezzanine cards supported in FX2s chassis configuration:
4 x 1GbE, 2 x 10GbE
FC430:
2 x LOM options: 2 x 10GbE or 2 x 1 GbE.
In addition, they can support one of the PCIe slots, with the cards below.
NDC options: 2 x 10GbE, 4 x 10GbE, 4 x 1GbE
NDC mezzanine cards support in FX2s chassis configuration:
4 x 1 GbE, 2 x 10GbE, 2 x 10GbE
FD332:
N/A
Supported Operating Systems
FC830, FC640, FC630, FC430:
CanonicalUbuntuServer LTS
CitrixXenServer
MicrosoftWindows Serverwith Hyper-V
OracleLinux
Red HatEnterprise Linux
SUSELinux Enterprise Server
VMwarevSphere
FD332:
N/A
Recommended Support
Dell ProSupport Plus for critical systems or Dell ProSupport for premium hardware and software support for your PowerEdge solution. Consulting and deployment offerings are also available. Contact your Dell representative today for more information.
Management
Embedded / At-Server
iDRAC with Lifecycle Controller (Express, Enterprise)
iDRAC Direct
iDRAC REST API with Redfish
Chassis Management Controller (CMC)
I/O Expansion Slots
FC830, FC640, FC630, FC430:
In PowerEdge FX2 chassis specifications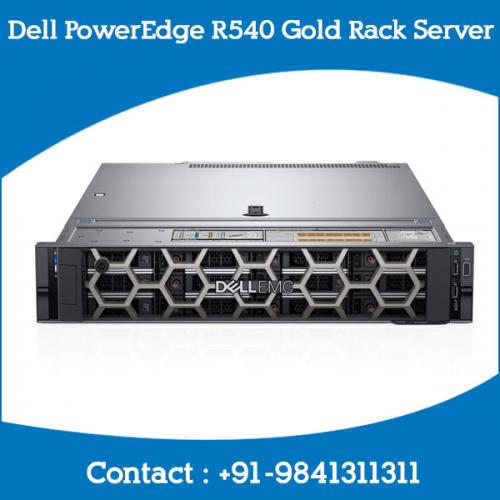 Dell PowerEdge R540 Gold Rack Server
Form Factor : 2U Rack Model
Model : PowerEdge R540
CPU : Intel Xeon Gold 5218R 2.1GHz, 20Core/40T, 10.4GT/s, 27.5M Cache, Turbo, HT (125Watts) Processor
Max Memory : 16 DIMMS
Memory : 1 x 32GB RDIMM
Max HDD Scalability : Up to 12, 3.5in Hot Plug Hard Drives and 2 x 3.5in Rear Drives
HARD DISK : 2 X 4TB 7.2K RPM SATA 6Gbps 512n 3.5in Hot-plug Hard Drive
RAID InBuilt : PERC H330 RAID Controller, Adapter, Low Profile
POWER SUPPLY : Dual, Hot-plug, Redundant Power Supply, 750Watts
System Management : iDRAC9,Enterprise
WARRANTY : 3Years ProSupport 4Hours and Mission Critical