Dell EMC PowerEdge M1000e Blade Enclosure - Dell Servers|Dell Poweredge Blade Servers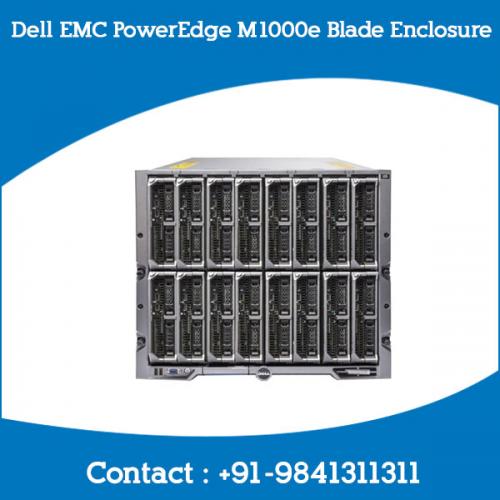 Dell EMC PowerEdge M1000e Blade Enclosure
Brand : Dell
Model : PowerEdge R6525 8 Core Rack Server
Chassis
Form Factor:
10U modular enclosure holds up to sixteen half-height blade servers
44.0cm(17.3")H x 44.7cm(17.6")W x 75.4cm(29.7")D
Weight:
Empty Chassis only – 98lbs (44.5kg)
Chassis w/ all rear modules (IOMs, PSUs, CMCs, KVM) - 176lbs (79.8kg)
Max Fully loaded w/ blades and rear modules - 394lbs (178.7kg)
Cooling Fans:
M1000e Chassis comes standard with 9 hot pluggable, redundant fan modules
Based on Energy Smart Technologies, M1000e fans are a breakthrough in power and cooling efficiency.
The fans deliver low power consumption, but also use next generation "low flow" technology to ensure the
lowest possible amount of fresh air is consumed to cool the enclosure
Input Devices:
Front Control Panel with interactive Graphical LCD
Supports initial configuration wizard :
Local server blade, enclosure, and module information and troubleshooting
Two USB Keyboard/Mouse connections and one Video connection (requires the optional Avocent iKVM switch
to enable these ports) for local front "crash cart" console connections that can be switched between blades
Power Up to six 3000W high-efficiency power supplies, six 2700W high-efficiency power supplies or up to six -48V DC 2700W power supplies.
Based on Dell's Energy Smart technologies, the M1000e power supplies deliver greater levels of efficiency, even at low levels of utilization. Supported power supply
configurations include:
3+3 and 2+2 (grid redundancy)
2+1, 3+1, 4+2, and 5+1 (power supply redundancy)
2+0 and 3+0 (non-redundant mode)
The M1000e chassis supports dynamic power supply engagement (DPSE) mode, which if enabled, puts lightly loaded power supplies into standby mode, driving up the utilization and the efficiency of the active supplies. Dell supports either 110–120V or 208–240V AC power supply input and supports a wide range of power distribution options. Dell recommends 208–240V AC for all production environments.
Storage
External Storage Options:
For information about Dell external storage options, visit Dell.com/Storage.
Management
1 (standard) or optional 2nd (redundant) Chassis Management Controller(s) (CMC) that provide:
Single secure interface for inventory, configuration, monitoring, and alerting for the chassis and all components Multi-chassis management capability allows up to nine chassis and 288 servers to be managed from a single, embedded, agent-less interface
Enables automated and embedded one-to-many blade BIOS and firmware updates, independent of the OS through iDRAC
Allows one-to-many blade server BIOS capture and replication
Real-Time Power/Thermal Monitoring and Management
Real-Time System AC Power Consumption with resettable peak and minimum values
System-level power limiting and slot-based power prioritization
Manages Dynamic Power Engagement functionality that can help to lower overall system power consumption by ensuring power supplies run at their optimal efficiency points
Manages fan speed control using Dell's enhanced efficiency technologies to ensure fans are delivering optimal cooling while minimizing power consumption and airflow
Secure Web (SSL) and Command Line (Telnet/SSH) interfaces :
Supports multiple levels of user roles and permissions, including integration into MicrosoftActive DirectoryServices and Lightweight Directory Access Protocol (LDAP) services for authentication 2 x 10/100/1000Mb Ethernet ports + 1 serial port
Provides single point of connection from management network to iDRAC on each of the blades and the management interfaces on the integrated I/O modules
2nd Ethernet port supports daisy chaining of CMCs for improved cable management
Optional Integrated Avocentkeyboard, video and mouse (iKVM) switch:
Enables USB keyboard/mouse and video port on front control panel
Dell OpenManage™ Systems Management :
Dell OpenManage Server Administrator—monitoring agents and 1:1 management utilities
Dell OpenManage Essentials—discover, inventory, monitor, and update M1000e chassis and bladesIntegration with third-party management solutions through Dell's Certified Partner Program Remote Management
Communications:
Brocade Switch M5424
Enclosure I/O Modules
Up to six total I/O modules for three redundant fabrics, featuring Ethernet FlexIO Switches providing
on demand stacking and uplink scalability.
PowerConnect M6220 Ethernet Switch :
Includes 4 x fixed copper 10/100/1000Mb Ethernet uplinks plus 2 of the following optional modules:
2 x 24Gb Stacking Ports
2 x 10Gb Optical (XFP-SR/LR) uplinks
2 x 10Gb copper CX4 uplinks
Standard Features include :
Layer 3 routing (OSPF, RIP, VRRP)
IPv6 support
Layer 2/3 QoS
Access Control Lists
Dell Ethernet Pass-Through Module :
Supports 16 x 10/100/1000Mb copper RJ45 connections
Only Ethernet Pass-through module on the market that supports full range of 10/100/1000Mb operation
BrocadeM4424 SAN I/O Module :
Access Gateway Mode or FC Switch
Access Gateway Mode enables NPIV functionality on external ports which delivers enhanced fabric interoperability, simplified set up, and doesn't consume an FC domain
12 or 24 port versions with 4 or 8 x FC 1/2/4Gb SFPs respectively :
4Gb Fibre Channel Pass-Through Module
16 x FC 1/2/4Gb SFP ports
Call for Best Price...!
For Further Details