dell emc nas storages - Latest dell emc nas storages Models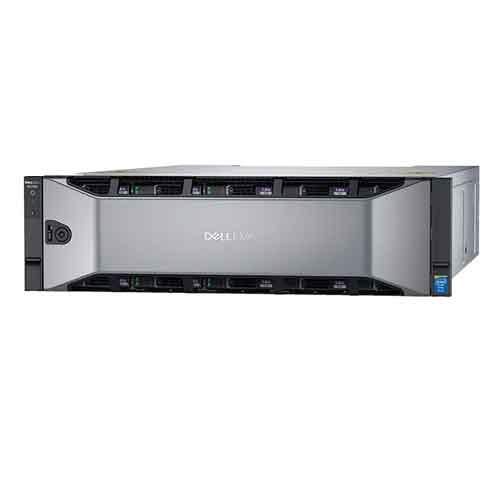 Dell controllers SC7020 array
Drive Controllers :
Supported expansion enclosures
Dell SC400: 12 x 3.5" drive bays, 12Gb SAS
Dell SC420: 24 x 2.5" drive bays, 12Gb SAS
Dell SC460: 60 x 3.5" drive bays, 12Gb SAS
Dell SC280: 84 x 3.5" drive bays, 6Gb SAS
Dell SC200: 12 x 3.5" drive bays, 6Gb SAS
Dell SC220: 24 x 2.5" drive bays, 6Gb SAS
Maximum drive count : 606 (30 internal, plus 576 external)
Supported drive types : HDD: 15K, 10K, 7.2K RPM; SSD: write-intensive and read-intensive drives in SLC, MLC and TLC formats. Drive types can be mixed in the same system.
Internal drive (back-end) : 4 x 12Gb SAS ports per SC7020 array (2 per controller)
Memory : 256GB per SC7020 array (128GB per controller)
Product Configurations :
Internal Storage : 30 x 2.5" Drive Bays
Controllers : 2 per SC7020 chassis (active/active)
Operating system : Dell Storage Center 7.1 or greater

Processor : Dual 2.5GHz, 8-core Intel® processors per controller
Maximum system memory : 256GB per controller (512GB total per array)*
NAS deployment connectivity (optional) : Supports file-based storage via FS8600 NAS appliance
Ports
Front-end network protocols : FC, iSCSI (supports simultaneous multiprotocol)
Max 32Gb FC ports : 24 per array (SFP+)
Max 16Gb FC ports : 24 per array (SFP+)
Max 100Gb iSCSI ports : 16 QSFP28 per array
Max 25Gb iSCSI ports : 16 SFP28 per array
Max 10Gb/1Gb iSCSI ports : 32 SFP+ or BaseT ports per array
Back-end expansion protocols : 12Gb SAS (auto-negotiates to 6Gb)
Max back-end expansion ports : 24 x 12Gb SAS ports per array
Power :
Power/wattage: 2 hot-swappable power supplies
Maximum output power: 1485 W
Maximum input power: 1688W
Maximum input current: 8.8 A
Maximum inrush current: 55A for 10 ms or less
Nominal input voltage operating range: 200-240 VAC
Nominal input frequency: 50/60 Hz
Maximum thermal output/heat dissipation: 5,760 BTU per hour (for all-in-one base appliance, no expansion enclosures)
RAID :
Supports RAID 0, 1, 5, 6, RAID 10 and RAID 10 DM (dual mirror). Any combination of RAID levels can exist on a single Storage Center. Multiple RAID levels can exist on the same storage tier within an array.
Scalability :
Min/max drives :
4/606 per array, more in federated systems*
(30 internal, plus 470 external)
Max raw capacity (SAN) : 1PB* per array (SSD or HDD), more in federated systems*
Expansion enclosures :
Mix and match from the following options:
Dell SC400: 12 x 3.5" drive bays, 12Gb SAS
Dell SC420: 24 x 2.5" drive bays, 12Gb SAS
Dell SC460: 60 x 3.5" drive bays, 12Gb SAS
Dell SC280: 84 x 3.5" drive bays, 6Gb SAS
Dell SC200: 12 x 3.5" drive bays, 6Gb SAS
Dell SC220: 24 x 2.5" drive bays, 6Gb SAS
Storage :
Storage format : Block (SAN)*
Storage media :
SAS and NL-SAS drives; different drive types, transfer rates and rotational speeds can be mixed in same system
SSD: Write-intensive, read-intensive (SLC, MLC and TLC formats)
HDD: 15K, 10K, 7.2K RPM
Functional :
Max SAN hosts: 500
Max initiator ports: 1000
Max LUN size 500TB
Max number of LUNs: 2000
Max number of snapshots: 16,384
Max IOPS: 1,200,000*
Max IOPS: (with latency less than 1ms) 1,050,000*
Max IOPS (80% reads, 20% writes): 346,000*
Max throughput (reads): 29,000 MB/s*
Max throughput (writes): 14,000 MB/s*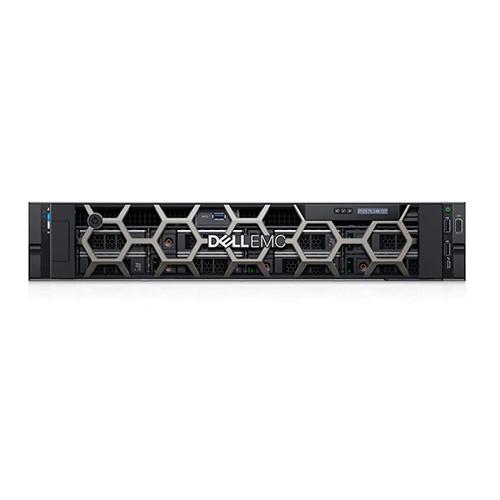 Dell EMC PowerVault NX3340 NAS Series Storage
Operating System: Microsoft Windows Storage Server 2016 Standard Edition
Additional Features: Cluster support up to 64 nodes
Chassis
Weight (Maximum): 21.9 kg (48.28 lbs)
Height: 42.8 mm (1.68 in)
Width : 482.0 mm (18.98 in with rack ears)
Depth:705.05 mm
Chassis Overview: 1U rack-mount
Data Protection Features: DFS-R (Replication), VSS (Snapshots), Optional TPM
Hard Drive Configuration: 2 or 4 x 2.5" front accessible for OS. Each platform in a clustered configuration with 2 HDDS for OS (RAID1) or 4 HDDs for OS (RAID5). PERC
H730 (internal drives) or H840 (optional for external drives)
Maximum Usable Capacity: Leverages shared storage arrays attached via SAS, iSCSI or FC
Management: Dell OpenManage featuring Dell Management Console, iDRAC9 Enterprise, Native Java RDP plug-in or Windows Server Management interface
Data Management Features: Data deduplication with compression, FCI (File Classification Infrastructure), FSRM (File Server Resource Manager)
Data Protection, Disaster Recovery, Security: Hot-plug hard drives, hot-plug power, hot-plug cooling, ECC memory
Power: AC Power/Max Current: Redundant and non-redundant hot-plug 750W PSU options
Regulatory: Product Safety, EMC and Environmental Datasheets, Dell Regulatory Compliance Home Page,Dell and the Environment dell emc nas storages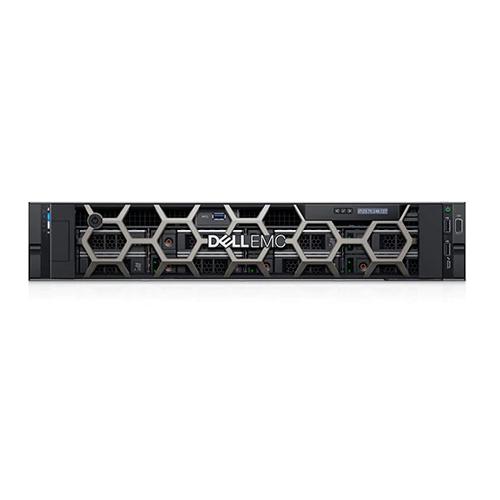 Dell EMC PowerVault NX3240 NAS Storage
Operating System: Microsoft Windows Storage Server 2016 Standard Edition
Chassis
Weight (Maximum): 28.1 kg (61.95 lbs)
Height: 86.8 mm (3.42 in)
Width: 482.0 mm (18.98 in with rack ears)
Depth:maximum 715.5 mm
Chassis Overview : 2U rack-mount
Data Protection Features: DFS-R (Replication), VSS (Snapshots), Optional TPM
Hard Drive Configuration: Up to 12 x 3.5" front accessible for data, up to 4x3.5 in mid-bay and 2 x 3.5 rear accessible for the OS (2.5 OS HDDs in hybrid carrier)
OS HDDs (on rear 2.5 HDDs) are always RAID 1. Data HDDs can be configured from factory in RAID5 or RAID6 (minimum 4 HDDs). PERC H730 (internal drives) or H840
(optional for external drives)
Maximum Usable Capacity : 192TB raw capacity using 12TB HDDs
Management: Dell OpenManage featuring Dell Management Console, iDRAC9 Enterprise, Native Java RDP plug-in or Windows Server Management interface
Data Management Features: Data deduplication with compression, FCI (File Classification Infrastructure), FSRM (File Server Resource Manager)
Data Protection, Disaster Recovery, Security: Hot-plug hard drives, hot-plug power, hot-plug cooling, ECC memory
Power: AC Power/Max Current: Redundant and non-redundant hot-plug 750W and redundant 1100W PSU options
Regulatory: Product Safety, EMC and Environmental Datasheets,Dell Regulatory Compliance Home Page, Dell and the Environment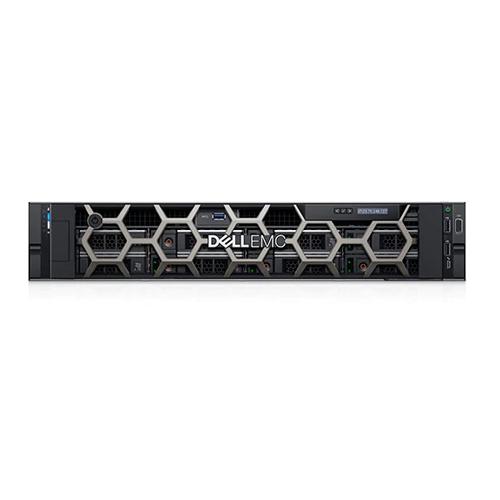 Dell EMC PowerVault NX440 NAS Storage
Operating: Microsoft Windows Storage Server 2016 (Standard Edition and Workgroup Edition)
Chassis
Weight (Maximum): 13.2 kg (29.10 lb)
Height: 42.8 mm (1.68 in)
Width:482.0 mm (18.98 inches with rack ears)
Depth:573.6 mm (22.58 in)
Chassis Overview: 1U rack mount
Data Protection Features:DFS R (Replication), VSS (Snapshots), Optional TPM
Hard Drive Configuration: 4 x 3.5 internal drives that must be identical in capacity and type. OS HDDs from factory in RAID 5. PERC H730P (internal drives)
Maximum Usable Capacity: 48TB raw capacity using 12TB HDDs)
Management: Dell OpenManage featuring Dell Management Console, iDRAC9 Enterprise, Native Java RDP plug-in or Windows Server Management interface
Data Management Features: Data deduplication with compression, FCI (File Classification Infrastructure), FSRM (File Server Resource Manager)
Data Protection, Disaster Recovery, Security: Hot-plug hard drives, hot-plug power, hot-plug cooling, ECC memory
Power: AC Power/Max Current: Single or dual hot-plug, redundant and non-redundant 350W PSU options
Regulatory: Product Safety, EMC and Environmental Datasheets, Dell Regulatory Compliance Home Page, Dell and the Environment